The road to Mommoth Hot Springs
Mommoth Hot Springs are going to be our next destination. This is one of my favorite spots in the entire park. The Roaring Mountain, that we will be passing on our right, will be a little foreshadowing of what awaits us further down the road. It is a completely white mountain with no vegetation at all, covered in fumaroles. Fumaroles are hot effluviums that release gasses from volcanic crevices. They include water vapor and gasses such as sulfur, carbon dioxide, chlorine, hydrogen sulfide. Because of geothermal activity, this mountain constantly produces a range of hissing, groaning and buzzing sounds. This is why it is called the Roaring Mountain.
Further down the Grand Loop Road you will pass the Obsidian Cliffs – a precipice created by lava. Obsidian Cliffs are not really that spectacular, the Sheepeater Cliff is much more worthy of our attention. To get here we must drive off from the main road to the right just behind the Indian Creek Campground. The road will be marked only by  a "road narrows" caution sign and nothing else. After a short ride you will reach a parking just next to the cliffs. From here you can take a walk along the Gardiner River with a view of meadows filled with all kinds of wildlife. Sheepeater Cliffs are built from basalt columns in hexagonal shape. They were created as a result of lava congealing.  They are very similar to those located in Devils Postpile. If you have never visited this park, I highly recommend you to do so. After the walk you can eat your lunch on picnic tables with a  view of the river.
Right before our destination you will pass through the Golden Gate Canyon. The road through the canyon leads via a spectacular mountain slope supported by concrete props.
Mommoth Hot Springs
You will have to drive for about 22 miles to reach the Mommoth Hot Springs from Norris Basin, which should take you approximately 45 minutes without any stops. At our destination you will be immediately greeted by the Liberty Cap. It is a cone created by the flow of hot water, which over time accumulated layers of travertine. It kept growing as long as there was a water source. Now water no longer flows out of the cone and it does not further alter its shape. Right in front of the Liberty Cap there is a large parking, where I'd recommend  you to leave your car.
Mommoth Hot Springs is a complex of travertine terraces created by hot water accumulating calcium carbonite throughout thousands of years. Calcium carbonite is the main ingredient of travertine, limestone and chalk.
You can begin your tour by stopping at the Opal Terrace, which is located on the opposite side of the parking and the rest of the terraces. Its name is a reference to the incredible pastel-blue water which gathers on travertine steps If you have little time you can skip it, the main terraces are much more spectacular.
We now go to the other side and begin with the Lower Terrace. This is probably the  most interesting and the prettiest part of the terraces. A walk on wooden walkways is around 1.5 miles (2,5km) long and will take you about an hour. Everything here is absolutely breathtaking, with every step you submerge into a surrealistic landscape, which looks as if it was taken straight from a fantasy movie.
The Palette Spring is exceptionally worthy of your attention. It is a colorful hill with terraces, with the Devil's Thumb, a grey cone created by a hot spring, located right next to it. Palette Springs is also a place known for its high activity of thermophilic bacteria, which dye the travertine yellow, orange and brown. In my opinion, this is the most beautiful spot in Mommoth Hot Springs.
Further down the road you will see travertine terraces mythologically and anciently named Minerva, Cleopatra and Jupiter Terraces. I think that the Minerva Terrace is the prettiest here. The whole walk will lead on elevated wooden walkways built out of planks. Unfortunately there are often large spans between the planks so be careful not to drop anything. I myself managed to drop my camera lens cover here, which of course had to slip through a gap and fall into a hot stream, which slowly started carrying it towards the Pacific Ocean. Luckily my brother's son, Miłosz, who is not only fit but also can keep kalm , jumped down and managed to grab the cover and climb back up. He received a cheerful applause from other tourists, who were eagerly waiting to see the result of this struggle, thinking that he would surely boil.
Now passing through the Main Terraces  we head towards the Canary Spring. This is one of the most beautiful places in the entire Mommoth Springs, because here together with the well-known terraces you can also see a number of dead trees. The black logs beautifully contrast with the white of the travertine.
Now the only thing we have left to see are the Upper Terraces and you need to chose if you want to do it by car or by foot. Upper Terraces are entwined by a one way car loop called the Upper Terrace Loop Drive, but there is also a walkway, which gives you the possibility to go for a walk. If you choose the walk you can continue going on foot from the Canary Spring. If you prefer to do it by car you will have to walk back to the parking and enter the Upper Terrace Loop Drive from the Grand Loop Road.
We chose to drive, which might not have been the best of ideas. We kept spotting  beautiful places  too late to safely stop the car, and we had to do the loop again and again, as there was no possibility of turning back. You should definitely stop at the New Highland Terrace, where you will see a forest of dead trees growing out of the travertine surface. This place has a strong apocalyptic feel to it. Further it is worth to see the Orange Spring Mound (we even managed to bring our car to a stop here), a beautiful hill, created by water leaking from inside of it. Right next to it we have the Tangerin Spring, which was born in the same way. Both springs are a mandatory stop. Further you will pass the Bath lake, which is usually dry, and the White Elephant Black Terrace. You can skip both of them. At the end of the ride you will arrive at the Angel Terrace, a terrace as white as snow which makes it highly photogenic.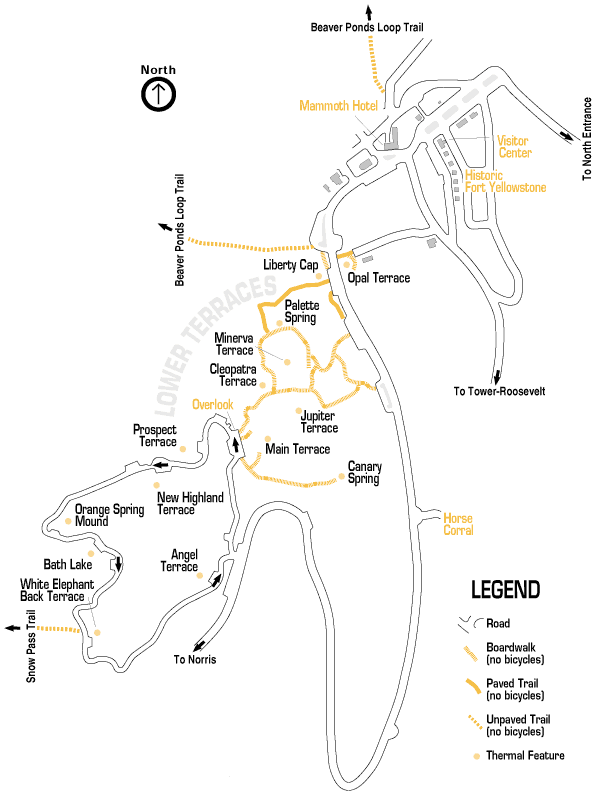 CONTINUE READING: